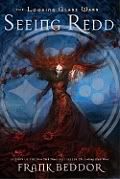 Seeing Redd by Frank Beddor (2007)
Description:
Alyss of Wonderland's rule has only just begun, and already those who prefer chaos to peace are threatening to destroy everything worth imagining. Trailed by newly appointed royal bodyguard Homburg Molly, Alyss is doing her best to keep pace with the non-stop demands of being queen while attempting to evade Molly for a few private moments with Dodge.
Alyss' life is a challenging mix of duty, love, and tough decisions and then a series of phantom sightings set fire to an urban myth of Her Imperial Viciousness' return and have everyone... seeing Redd.
Has Redd somehow freed herself and her chief assassin The Cat, from the confines of the Heart Crystal? If not, then who has resurrected Redd's brutal foot soldiers the Glass Eyes and set them loose to attack Wonderland on all sides.?
Battles rage, looking glasses explode and the Alyssians once again unite to defend White Imagination in this fast-paced follow-up to the
New York Times
best-selling
The Looking Glass Wars
.
Review:
As a second novel,
Seeing Redd
does fairly well. This installment of the
Looking Glass Wars
trilogy find Alyss dealing with her new life as queen. The peace doesn't last for long. It appears that Redd has returned, but has she? We also learn many secrets about certain characters. Although, I guessed what they were myself. On the whole, I found it to be fairly decent. There were a few flashbacks, but nothing that was hitting you over the head. Actually, I was glad to have them as I had forgotten some of the details from the first novel. Characters are developed further and I am anticipating the third novel of the series.
Score:
4 out of 5