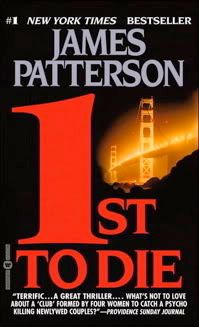 1st to Die by James Patterson (2001)
Description:
(From Amazon) Lindsay Boxer is a homicide inspector who's just gotten some very bad news. She deals with it by immersing herself in her newest case and soliciting the personal as well as professional support of her closest friend, who happens to be the city's medical examiner. The two women, along with an ambitious and sympathetic reporter and an assistant DA, form an unlikely alliance, pooling their information and bypassing the chain of command in an engaging, suspenseful story whose gruesome setup is vintage Patterson.
Review:
This was my first time reading anything by Patterson. I have to admit that I'm hooked. It was a fairly decent story. There were things that made me groan and I did figure things out. However, there were a few surprises thrown in there. It was somewhat difficult for me to get over comparing his novel to how things really work in the criminal justice system. That is just something I always have problems with though. I really don't think that a cop would
ever
make friends with a reporter like that. When I worked for the P.D. I was sick to death of the press. I do like the idea and it makes great fiction. I thought the story was really interesting and I was captivated the whole time. The ending was a bit predictable, but on the whole not bad. All in all, not a bad read. I will definitely continue on with the series.
Score:
3.5 out of 5
Movie Connections:
I had no idea that there was a TV miniseries based off of this book. It came out in 2003 and apparently was on NBC. There were some good actors in it, however looking at some of the reviews, it doesn't appear to have been that great. I also noticed that there is a TV series from this year based off of the Women's Murder Club. I would like to see this show just to see how they do the book justice.
First to Die (2003)
Women's Murder Club (TV) (2007)