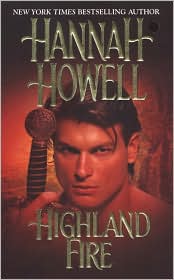 Highland Fire by Hannah Howell (1995)
Pages:
384
ISBN:
0821774298
Description:
Swept overboard and stranded on the rocky shores of Scotland, Moira Robertson is left with only the tattered clothes on her back - and the mysterious stranger who came to her aid on the ship. Although their close surroundings unsettle her, she soon cannot resist his touch which awakens a burning ache deep within her. But an she trust her life - and her heart - to this darkly deductive man?
Tavig MacAlpin is a condemned man. Accused of a murder he did not commit, his escape is thwarted by a flame-haired beauty. He must continue his search for justice, but fate has bound him to this Scottish lass - and to a slow, sensual desire that will not be denied...
Review:
From the beginning there was an attraction between the main characters. It also appears they have more in common than they thought. They are both heading towards the same destination and both have a "special" ability. I enjoyed the banter between them as the dialogue was rather saucy. The one thing that annoyed me was Moira's obsession that she couldn't be together with Tavig because of their abilities. It was getting tiresome by the end. Overall a nice quick read.
Score:
3 out of 5