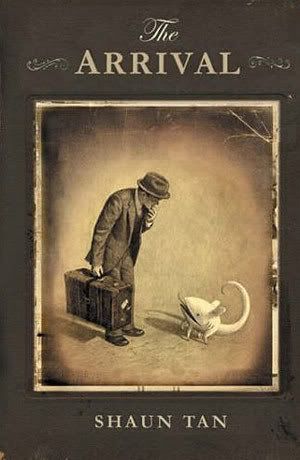 The Arrival by Shaun Tan (2007)
Description:
Tan captures the displacement and awe with which immigrants respond to their new surroundings in this wordless graphic novel. It depicts the journey of one man, threatened by dark shapes that cast shadows on his family's life, to a new country. The only writing is in an invented alphabet, which creates the sensation immigrants must feel when they encounter a strange new language and way of life. A wide variety of ethnicities is represented in Tan's hyper-realistic style, and the sense of warmth and caring for others, regardless of race, age, or background, is present on nearly every page.
Review:
While it doesn't take long to "read", its artwork is just so captivating. The reason I put read in quotes is that there aren't any words, just pictures. But the artwork that is there, is just outstanding. You could take forever just engrossed in the beautiful artwork that is inside of this book. The story that is told through this artwork is really great. Its basically the story of a man who travels to a new place and is dependent on the kindness of strangers. All in all, a great story that everyone should take a look at.
Score:
5 out of 5