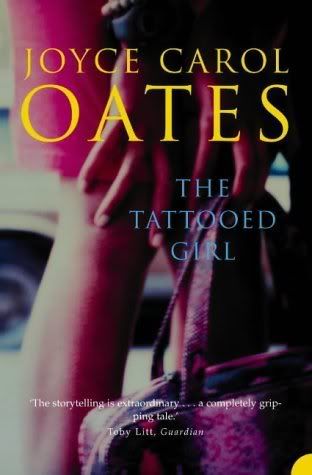 The Tattooed Girl by Joyce Carol Oates (2003)
Description:
Joshua Seigl, a celebrated but reclusive author, is forced for reasons of failing health to surrender his much-prized bachelor's independence. Advertising for an assistant, he unwittingly embarks upon the most dangerous adventure of his privileged life.
Alma Busch, a sensuous, physically attractive young woman with bizarre tattoos covering much of her body, stirs in Seigl a complex of emotions: pity? desire? responsibility? guilt? Unaware of her painful past and her troubled personality, Seigl hires her as his assistant. As the novel alternates between Seigl's and Alma's points of view, the naive altruism of the one and the virulent anti-Semitism of the other clash in a tragedy of thwarted erotic desire.
Review:
This has to be one of the worst books I have ever read. The only reason I finished it was because it was a book club pick. The whole book is filled with anti-Semitic slurs. I couldn't care less about any of the characters. It was difficult to find a redeeming quality to anyone. Also, certain facts are never discovered (what was Seigl's disease and who tattooed the girl and why???) I really wonder if the person who wrote the blurb on the book cover read the same book that I did. It was nothing like the book at all. Unfortunately, this was my first Oates book and to be honest, it may be my last. I would most definitely pass this book up.
Score:
1 out of 5