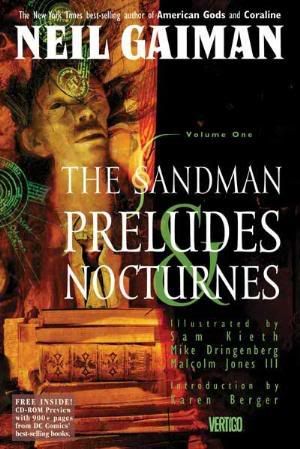 The Sandman Vol. 1: Preludes & Nocturnes by Neil Gaiman, Sam Kieth, Mike Dringenberg, and Malcolm Jones III (1991)
Description:
(Back of Book) Enter a dark and enchanting world of dreams and nightmares and meet the Sandman, Master of Dreams, and his kin - the Endless. This first collection of Neil Gaiman's unique and multi award-winning Sandman saga introduces key themes and characters, combining myth, magic and black humor.
Review:
I was pleasantly surprised by this novel. I thought it was absolutely brilliant. The story was just outstanding . Its a great mix of art and horror. I don't think I'd want to be home alone and reading this in the dark. I was totally engrossed in the story from beginning to end. I really could not put it down. It was great to see the fall and rise of the Sandman. I now want to read each and every one of the books in the series to see where the Master of Dreams go. I think I especially like the fact that Death is a woman. A very unique vision and very well done. I highly recommend this book.
Score:
5 out of 5