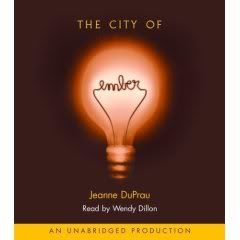 City of Ember by Jeanne DuPrau (2003)
Description:
This novel by Jeane
DuPrau
takes place in the dark city of Ember, a decaying place with no natural light surrounded by the vast Unknown. Although ancestors had arranged for information on leaving Ember to be made available after the inhabitants have spent 200 years there, a corrupt mayor lost the information many years before the novel begins. Two hundred and forty-one years later, Ember's electrical lighting frequently fails, supplies are dwindling, and the populace is growing increasingly frightened. Twelve-year-old
Doon
and his acquaintance Lina are intent on finding a way to save Ember. After Lina finds a mysterious and fragmented paper titled "Instructions for Egress," they think they have a way out. Can they escape from the villainous mayor and his soldiers? Can they figure out the missing letters and words in the message? Do they find their way out of Ember and up to a post-apocalyptic Earth?
Review:
This novel takes you on a journey with Lina and
Doon
as they discover things are not what they seem in the city of Ember.
Doon
knows things aren't right but no one really wants to acknowledge that. Then Lina makes a great discovery - instructions on how to leave the city. We are taken along for the ride as the duo make it out of the city. Overall, this book was good. I did think that it was slightly depressing. Children start working at the age of 12 and the city itself is falling apart. There are several blackouts and their supplies are running out, fast. However, there are really great morals taught to the young readers this book was intended for. So even though it may be a bit dark (no pun intended), I think it is a great book for the younger kids to read.

Score: 3 out of 5
Movie Connections:
I didn't know, but there is a movie adaptation coming out in October of 2008 for this book. It is directed by Gil
Kenan
and starring Bill Murray, Tim Robbins, and Martin Landau. It will be interesting to see how this pans out.